Create Vintage T-Shirt Designs
Have you ever wondered how those vintage t-shirts you find everywhere are created? Well in this tutorial, we will show you how to add your very own vintage effects so you can create your very own vintage t-shirt designs.
This video is a continuation of our previous video, where we showed you how to create your very own textures. In this video, we will show you how to add your textures to your t-shirt designs. So you can start printing better t-shirt designs. We want to show you how to make your T-Shirt designs more cost effective, more durable and more washable. And vintage effects can help us achieve this goal.
What You'll Learn:
Why use Vintage Texture in T-Shirt Designs
Why Flex-Soft (No-Cut) & Vintage Textures are best friends
How to Convert photos into Textures
What You Need:
Camera
Illustrator/Photoshop/CorelDraw
Laser Printer
Flex-Soft (No-Cut)
Why use Vintage Effects
Trending t-shirt designs are t-shirts which are comfortable and relatable to people. And, these t-shirts are more than likely to have a design which feels soft to the touch, washes well and can handle our daily lives. Such t-shirts are born from designs which have lots of open areas with fine details built into the image itself.
All this is great to hear, but what if your designs are closed, have large blocks of colour and feel like plastic when pressed to the t-shirt? How can you take advantage of Flex-Soft (No-Cut) and vintage textures, when your t-shirt designs feel like plastic.
As a result, we created the Flex-Soft (No-Cut) Vintage Textures video. We want to open your eyes to the world of No-Cut solutions and its many possibilities and advantages. We have put together one of the most compact tutorial videos to date.
Your Imagination is the only Limitation
Understanding the advantages of our No-Cut solutions will make your designs more attractive to customers, which intern will increase your potential sales and ultimately your business profits.
More than anything, we want to show you exactly how soft you can make your t-shirt designs. Additionally, by adding a vintage t-shirt design texture to your designs, you will experience an increase with the washability of your designs and garments. As a result, saving you large amounts of toner. Additionaly, these savings will feed into your business profit margins.
Advantages of No-Cut Solutions:
More Attractive T-Shirt Designs
Keep up with T-Shirt Trends
Increase Sales Potential
Increase Business Profits
The Perfect Companion
Flex-Soft (No-Cut) is one of the most advanced single-colour digital heat transfer papers on the market. With Flex-Soft (No-Cut), you can print any design that takes your fancy. Even the most complex Vintage T-shirt Design texture you can create.
From the finest of details, to rasterized portrait photos and the many vintage texture effects available. You can print the most detailed illustrations, sketches, photos or the most complex hand drawn type faces you can find. The design posssibilities are limitless with Flex-Soft (No-Cut).
Finest Details
One of the big issues with such fine detailed vintage images, is that, not everyone can do them. Of course, what we mean is that anyone can create them, but not everyone has the opportunity to print them. Not without investing large amounts of money upfront first. In the end, you may be left with the at least 70+ garments, all with the same design, that you need to sell before they're no longer fashionable.
How can I create them, I hear you ask. Our Flex-Soft (No-Cut) transfer papers let you print the finest details, In fact, all our No-Cut transfer papers provide many advantages when printing fine detailed texture effects. In fact, all these advantages add up to helping you sell more trending t-shirt designs and run a successful t-shirt business.
Flex-Soft (No-Cut) Advantages:
Finest Details
Rasterized Images
Single-Colour solution
Multi-Layer Colour Combinations
Vintage Effects
Grunge Look
Grafitti Style
Distressed Look
Damaged Effect
Used-Look
How to Create Vintage T-Shirt Designs
Step 2: Creating Masks
Once we have our transparency window open, we can then go ahead and select all of our t-shirt design and then click on "Make Mask" from the Transparency panel.
Next, unclick the "Clip" option. The black box should now turn white and your design should reappear on the artboard once more.
Tip: If some elements of your design are missing, then you'll need to first turn your design into a compound path.
To do this, you'll need to go back to the step when we selected our image and before clicked on "Make Mask". When we have our image selected, we need to go to the top menu and look for Object > Compound Path > Make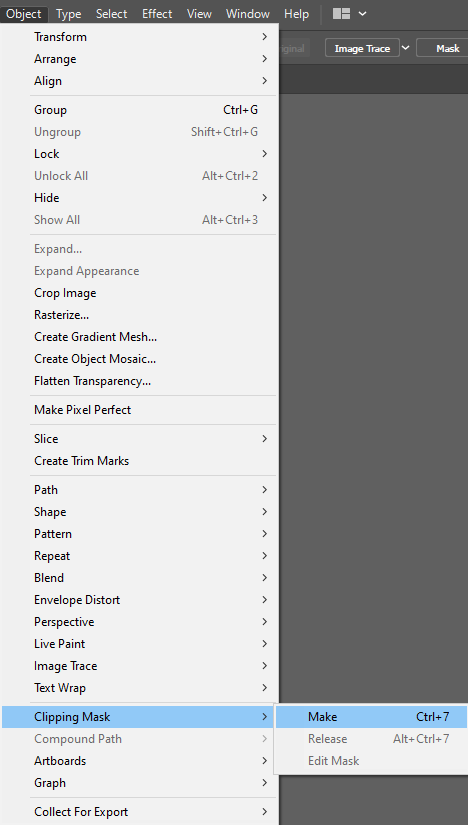 Step 3: Add Your Texture
Back to the transparency mask. Once we are back here, we need to move over to our texture file. Select the texture that we wish to use, then copy & paste the texture into our t-shirt design file.
Once you do this, you will see that the texture is now cutting away parts of your design. That means it's working.
Now, you can paste in more textures if you need. Move them around and arrange them however you want. You can even scale the texture effects, for larger or smaller texture elements in your image.
Step 4: The Perfect Look
Our goal now, is to get a nice even texture effect across the whole design. Ideally, we want to make sure that the areas of our image which have large areas of toner, are broken up as much as possible. Obviously, without losing the context of the shape.